The following article explains what update options are available to replace the Tesla Autopilot computer and upgrade to a newer version. The Tesla Autopilot has been continuously improved since its release in 2014. Not only the software is continuously optimized and equipped with new functions, but also the hardware in the vehicles has been revised several times in the last years. In addition to changes to the number of cameras, the performance of the computer, which is responsible for analysing the camera images and calculating the route, has also been greatly improved.
The different computer generations are also abbreviated with AP1, AP2, AP2.5 and AP3. The latest generation AP3 or HW3 (Hardware 3) is now officially only called "FSD Computer".  It is installed in vehicles from about April 2019. The different functions of the various autopilot computers are compared in this table.
What is the "FSD Computer" (AP3/HW3)?
The "FSD Computer" is a direct replacement for the previous AP2/AP2.5 computer from Nvidia. Tesla developed its own Autopilot computer after being dissatisfied with the general computer performance offered by even the best vendors like Nvidia on the market.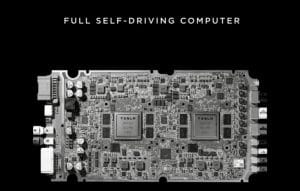 Functions that are only possible with the FSD Computer Hardware (AP3/HW3)
With the software update 2019.40.50, Tesla released the first functions at the end of December 2019, which only work with the "FSD Computer" (AP3/HW3) hardware.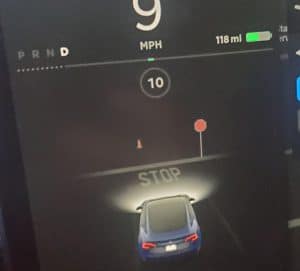 Stop sign and traffic light detection only work with "FSD Computer" hardware. It can be assumed that new Autopilot functions will only work with the FSD computer in the future and some functions will only work with purchased FSD option. The "Smart Summon" function will still work with the old AP2 and AP2.5 hardware, but the "Enhanced Autopilot" Function (EAP) or "Full Self-Driving" (FSD) option is required.
Tesla Autopilot computer upgrade options
The AP1 (10/2014 – 10/2016) cannot be upgraded to AP3 and there will be no possibility to upgrade a vehicle with AP1 hardware to a newer Autopilot computer in the future.
For vehicles with AP2 (10/2016 to 08/2017) and AP2.5 (08/2017 to about 04/2019) Elon Musk has announced on Twitter that buyers of the additional option "Full Self-Driving" (FSD) will receive the "FSD Computer" (AP3) free of charge:
Which Autopilot hardware version does my vehicle have?
AP3/HW3 (FSD Computer) has been installed since about April 2019. Many Model 3 SR+ were equipped with AP2.5 until summer. Since the software update 2020.4, "Additional vehicle information" is also displayed in the vehicle settings under "Software". There you will also find a note about the installed Autopilot hardware.
When will I get the Tesla Autopilot upgrade for my car?
As mentioned in Elon Musk's Twitter Tweet, for a vehicle with AP2.5 hardware, only the replacement of the computer unit is necessary to get AP3. The AP2 cameras are also suitable for AP3. Vehicles in the USA and Canada have already been upgraded from AP2.5 to AP3 since September 2019. In forums you can read that some vehicles in Europe have already been updated. But these are only Model S and X with current AP2.5, which were built after March 2018. The upgrade for Model 3 starts in May. Date overview table at Tesla.
When your AP2 or AP2.5 vehicle is due for the Autopilot upgrade is defined by Tesla. There is no point in asking the Service Center, and FSD buyers are not entitled to have their vehicle upgraded immediately. If you have purchased FSD and have a vehicle with AP2 or AP2.5 hardware, Tesla will contact you when they are ready to upgrade your vehicle.
Tesla Autopilot computer upgrade from AP2 to AP3
Apparently no vehicle with AP2 hardware has been converted to AP3 yet. Probably the conversion is more complex in this case, because vehicles with AP2 still have cameras with different color filters than vehicles with AP2.5 and AP3. Furthermore, Model S and X with AP2 have different cabling and this probably makes the Upgrade from AP2 to AP3 more complicated than from AP2.5 to AP3.
Tesla's engineers will probably need some more time to optimize the procedure from AP2 to AP3. Therefore, vehicles with AP2 will not be the first to be upgraded in 2020. Nevertheless, one can look forward to receiving the AP3 computer sometime:
Upgrade from AP2 to AP3
In the US, vehicles with AP2 hardware have already been upgraded to AP3. In this case, the upgrade is presumably more complex, because cameras with different color filters are installed in vehicles with AP2 than in vehicles with AP2.5 and AP3. In addition, the Model S and X with AP2 have differences in wiring compared to AP2.5 and this may make the upgrade from AP2 to AP3 more complicated. It is now also known that an upgrade from AP2 with MCU1 to AP3 is possible without the MCU2 upgrade. As can be read in this report from a Model S owner from the US, the sentry mode function including video recording on USB stick works perfectly with AP3 and MCU1, but viewing the videos and traffic cone visualization does not work due to the lack of MCU2.
Meanwhile Tesla also offers a paid upgrade from an old MCU to MCU2 (for the time being only in USA).