Anyone who has never bought an electric car before suddenly has to deal with new issues such as battery capacity or range when choosing a vehicle. In this post, you will find out which Tesla to buy. With the most important questions you can ask yourself to choose your dream car. There are general questions in this guide that arise when buying any brand of electric car but others are specifically for the purchase of a Tesla. Of course, I leave the question about the design outside because it is an individual matter of taste. If you are completely new to the topic of Tesla electric mobility, here is a list of abbreviations for the topic.
We begin this article about which Tesla to buy with a short overview of the Tesla vehicles:
Which Tesla To Buy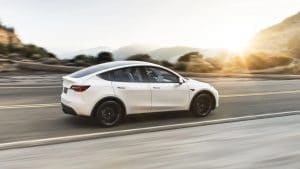 I do not mention the Cybertruck and the Roadster here, as the market launch for these vehicles is not yet clearly known.
What space do you need?
As far as space is concerned, only the X model so far offers more than 5 seats for adults, as it is available in a five, six or seven-seater version. The Model S used to be available with two rearward facing children seats as an option and the Model Y also offers a sixth and seventh seat. However, these also appear to be child seats only. The boot is of course another criterion and is much larger in the Model S than in the Model 3. Europeans should also consider that the Model 3 does not have a large tailgate. In Europe, on the other hand, vehicles are widely used whose tailgate can be opened completely, including the rear window. This function is only offered by Model S, X or Y.
What range does one need in everyday life?
The range is not only defined by the size of the battery. Due to the high-energy efficiency of electric cars, the shape of the body is also more important due to air resistance than in vehicles with combustion engines. Since there are no Teslas with small batteries, every Tesla model has a range that allows it to cover long distances thanks to its quick-charging stations. Nevertheless, the models and variants differ enormously in the number of necessary charging breaks on long distances. While a Model X 60D (the Model X variant with the smallest battery) can only drive 300 km in winter, depending on the weather, a Model 3 "maximum range" can also drive around 600 km with one battery charge in summer.
Driver Profiles
Traditionally, however, the personal necessary range depends strongly on the driver's profile. Am I an employee in the field and do I drive more than 500 km daily? Then I have different requirements than if I only drive a long distance of more than 400 km three to four times a year. This will definitely work with all Tesla models, but it is of course more convenient if you don't have to load too often on very frequent long-distance rides.
Personally, I have never been bothered by the fact that my model S75D only has a range of about 380 km. But I also only drive about ten times a year a distance of more than 300 km per day. And for these cases I have the Tesla Supercharger Network. Read my experiences to drive a Tesla on long distance. Another aspect of the maximum possible range of a Tesla is the charge level range in which the battery is usually operated. That is the range between the lower minimum how far the battery is usually discharged and the maximum how far it is usually recharged.
Not all batteries are the same
This is important because there are two conditions that have a negative impact on the long-term health of the Tesla battery: You should not charge the battery of an electric car more than 90% in everyday life, if you leave the car for a longer period of time afterwards. It should also not be left standing around with a charge level below 20%. Ideally, the charge level in everyday life is between 20 and 90%. For example, those who cannot charge at home and at work are restricted by this and would be more flexible with a larger battery when planning the charging process away from home.
It is also important to mention that a battery does not charge from 0 to 100% continuously at the same speed. The higher the charge level, the slower the speed at which the cells are further charged. Conclusion: due to technical reasons, traditionally, an electric car is best charged only over 90% if it is really necessary.
With older Model S and Model X the capacity of the battery was still shown in the model name (e.g. s75 stands for Model S with 75 kWh battery capacity). However, new Model S and X cars are now only sold with 100 kWh batteries. An overview of all model variants and their average range measured according to the American EPA measuring cycle (values in km are a bit further down in the table).
How important is the fast charging capability?
The fast charging capability (DC charging with direct current) is especially important on long distances. It is possible with all Tesla models. However, there are differences in the maximum charging capacity depending on the model. With the more modern cell chemistry the Model 3 and Model Y can charge faster than Model S and Model X, which still use the old types of rechargeable cells. Older 85 kWh Model S were partly even throttled in the fast charging capacity because Tesla obviously wants to preserve the battery. A similar effect can be seen in Model S and X with 60,75,90 and 100 kWh battery, as soon as a certain amount of kWh was charged via direct current (DC). Whether Model 3 is also affected by this is not known to my knowledge.
How important is a well-developed network with charging stations?
A key factor why electric mobility with Tesla works so well is the supercharger charging station network. Anyone who can charge at home is seldom dependent on the Supercharger in everyday life with a Tesla. But on long-distance journeys, the network impresses with its reliability and simplicity of use and cost accounting. Above all, however, by the high density of charging stations.
Do I need to purchase a Tesla with free Supercharging?
Older Model S and Model X are still sold privately with a free supercharger option. For new cars, this is currently no longer available and will probably not be free again in the future. How important free supercharging is, of course, depends very much on user behavior. Anyone who drives an extremely long distance can of course benefit financially from the elimination of fuel costs.
Those who cannot charge at home and plan to do this on the supercharger instead, will of course also be better off financially with free supercharging. However, this is not the basic idea of the Supercharger shop network, which is only intended for long-distance travel. Many Tesla drivers get annoyed when the charging stations are blocked by so-called "locals", who take over the charging stations from the long-distance drivers. With the electricity tariffs on the Tesla website you can calculate whether free supercharging is really worth it.
How quickly must you be able to charge at home?
If you only drive to work, it is usually possible to do so without charging. If you can charge at work, you usually don't even need a charging facility at home. The vehicle then has sufficient standing time during the day to reload more range than is necessary for the journey to work. But if you cannot charge at home or at work, you must plan well and also accept charging times in which you deliberately wait until the vehicle is sufficiently charged again.
Whether charging at the supercharger instead of at home makes sense is something that everyone must decide for themselves. If you can charge at home with one of these options, you are more flexible and don't have to worry about charging anymore. Even a normal power outlet is usually sufficient for the everyday driving profile of most people. However, there are also disadvantages associated with charging at a household socket. When purchasing a home charging system, the question arises whether to use a mobile charger or a permanently installed Wallbox.
Performance model? Yes or No?
Each Tesla model is also available in a sports version. The so-called "Performance" model. Not only the engine power is higher with these variants, also colored brake calipers and other details decorate these high-Power Cars. The Model S and Model X Performance models also feature the Ludicrous acceleration mode. The Tesla Model 3 Performance scores with a track mode for the racetrack.


Purchase a new or used car?
The combustion engine has been around for over a hundred years. As a result, the potential for further development has been exhausted for years and only minimal improvements have been possible in recent years. By comparison, we are still in the very early stages of electric Cars. Progress in development is coming rapidly. Even a three-year-old electric car can be much more different from its predecessor. In addition, the price of rechargeable batteries is falling. So, the price/performance of an electric car is getting better and better. Nevertheless, you could wait forever. The development never stops and there is always something better to come. Finally, new or used cars are also a question of one's own priorities and budget. A used Model S or a new Model 3, for example, is an interesting comparison.
Depending on the need in terms of space or affinity to technology knick-knacks such as autopilot or video streaming in the car, one or the other can make more sense for about the same price. The question is therefore difficult to answer and a new car not only has a higher price, but also has many advantages such as a longer vehicle warranty. Of course new cars are not immune to problems. Especially because of the fast development there are also problems that only occur with newer models.
For used cars, the VIN number can be used to check the vehicle history. It may be a car that was involved in an accident, a former taxi or a rental car. Simply type in the VIN number and you will immediately receive a vehicle report.
How important is the Tesla Autopilot and future features for autonomous driving?
I was just calling it knick-knacks. But in my opinion is this wrong. I think the autopilot is great. It recognizes the vehicle's surroundings through eight cameras and reacts to what is happening by analyzing the images. On the freeway I wouldn't want to miss the relaxed automatic steering, acceleration and braking by the autopilot. In my opinion, it improves a great driving experience even further and it feels like driving in the future. But again, you have to be aware that this system is not yet fully developed. Tesla uses its drivers as test persons to further develop the system.
Legally speaking, as a driver you still have to monitor what is happening at all times and keep at least one hand on the steering wheel and be prepared to take control. Depending on the current software version, strange autopilot behavior and phantom braking for no apparent reason can also occur. I have no problem with this, as the autopilot can be overridden at any time by a gentle push on the accelerator or simply by using the on/off lever, a steering movement or applying the brakes.
A smartphone on wheels?
What I also like about the autopilot is that I can be part of such a big thing. It develops further and further until one day our vehicles will drive completely autonomously. I think it's exciting to watch how the system gets better and better through regular free software updates and suddenly can master new driving situations. But nevertheless, the autopilot is not for everyone, so you should consider carefully whether you need the additional functions that are subject to a fee. The range of functions of the autopilot differs depending on the age of the vehicle and the chargeable options tied to the vehicle. Newer models come with a basic version of the autopilot as standard, additional functions are only available by purchasing the FSD option "full self-driving".
Check out this YouTube video with an Autopilot demonstration:
In the US, since October 2020, even the beta version of the FSD software is installed for a small amount of test users. It offers a foretaste of what will hopefully soon be possible outside of the US as well. In this unfinished preliminary version, functions such as automatic driving in urban areas including traffic circles and automatic turning are included. The following video shows the FSD Beta:
In what condition is the Tesla battery?
This question does not arise with a new car. But the maximum capacity of each battery reduces with aging and the number of charging cycles. This "degradation effect" turns out to be minimal in a Tesla. Statistics show that even vehicles with 160,000 miles on the clock still have a battery capacity of more than 90%. Nevertheless, there are outliers in the statistics and therefore it is interesting to know how high the degradation is with a used Tesla. Furthermore, degradation is more pronounced if the vehicle is very often charged to 100% battery level and then left standing for a longer period of time (this also applies to longer periods of standing below 20% battery level). Therefore, it is very interesting to know about the condition of the battery.
Unfortunately, these "vital data" cannot be displayed in the vehicle, but with an OBD2 plug and the right adapter cable, these values can be read out via a mobile phone or tablet using Bluetooth:
The amount of kilowatt hours charged so far via AC (alternating current / slow charging) and DC (direct current / fast charging) is also interesting. When a large amount of kilowatt hours are charged via DC, the vehicle comes into the limit of the charging current, which Tesla activates to protect the battery. If you are not so technically versed yourself, you can also have the battery values read out. Because this is only a Tesla Buying Guide I'm not going to delve deeper into the subject of how to read the battery. You can find this details in the Scanmytesla thread of the TMC Forum.
Which wheels/rims size?
The rims are not only design and appearance. The shape of the rims also influences the air resistance of the vehicle due to air turbulence. At first glance, this may seem trivial, but in reality, rim design and rim diameter still make a difference of a few percentage points in terms of power consumption. Basically, the larger and heavier the rim, the higher the consumption. It's not for nothing that Tesla has developed the energy-saving Aero rim design for the Model 3. This is a good overview of the consumption data compared to the wheel size (values in Km a little further down the table). By the way, tires for a larger rim diameter are also more expensive.
Purchase Fabric or leather seats?
New Tesla cars are generally only available with seats in vegan imitation leather. This is however very high-quality and easy to clean. And by the way, after a while it looks even better than the genuine leather seats that were formerly available for Model S and Model X until around summer 2017. On the used car market, Model S and Model X are also still available with cloth seats. For these two vehicle types, ventilated leather seats were previously also available as an option.


How important is other Tesla vehicle equipment?
With Tesla, there are generally few options to choose from. Even the basic equipment includes practically the complete range of functions and Tesla wants to keep the production of its vehicles as simple as possible. Nevertheless, there used to be a greater variety of options, some of which were subject to a fee, which is fascinating for buyers of used cars. The differences are greater for used Model S and X than for Model 3. For example, the following equipment was not always standard for S and X in the past
Premium Upgrade Package (contains for example the HEPA air filter, ambient lighting in the interior and Alcantara applications).
Premium Audio Package
Winter package with steering wheel heating, heated washer nozzles and heated seats in the rear seat. A critical feature and a mistake that I didn't buy this at that time! You wouldn't believe how often I get to hear that… 🙂
A trailer coupling can also be an important basis for decision-making when it comes to used vehicles. Tesla itself does not retrofit the original trailer coupling.
The following comparison tables provide further information in addition to this "which Tesla to buy". Check the differences in equipment for: Model 3, Model S and Model X and the interior differences for Model 3.
Conclusion about which Tesla to buy
Of course, you can go much further into detail with all these questions. The vehicle purchase is finally made quite simply online at Tesla.com with just a few mouse clicks. If you would like to get 1500 km of free Supercharger credit for a new car, you can order your vehicle directly from Tesla via my recommendation link instead. Many thanks!

You're new to Tesla? Then you will find here a short overview of Tesla vehicles.

* = This post contains